Topic: Henry Winter - He's Leeds and he knows he is...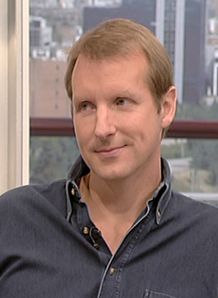 OMJ: Leeds are having a mini wobble. Are they going up this season?
Yes. Because of Grayson, Naylor, Becchio, Snodgrass, Howson etc. Too many good players (for that level) and the fans (home and away)
OMJ: One of our posters is concerned that Leeds are losing the 'dirty' tag in the press and in danger of being liked. Would you agree?
Remember that Leeds were popular with the press during the run to the CL semi...Anyway, some perspective has come to the dirty tag....there were some fantastic footballers in that 70s team. I've always liked Leeds; my best friend at school in London was a Leeds nut in the 70s, went to ER all the time and we hung on his every word when he returned. He's godfather to my son whose first song, after `the wheels on the bus', was `marching on together'. Aged two. He has a Leeds shirt. The current Leeds side are popular because of Grayson, decent players and in an era when atmospheres have gone, Leeds fans make a racket.

OMJ: Who of the current Leeds squad particularly impresses you?
Snodgrass. Intelligent, good touch. If he could run more athletically, he would be top-class.

OMJ: Is Simon Grayson capable of taking Leeds all the way back to the Premiership?
Yes. But might take two attempts to get out of Championship.
OMJ: Would you say that Jermaine Beckford is good enough for The Premiership?
Everton will find out! He's quick enough. Becchio has more brains. I thought that pen against Spurs showed unexpected steel and could be the making of him.
OMJ: Favourite all time Leeds player?
Lorimer. With Radebe a close second for sentimental reasons.
OMJ: Best Leeds game ever attended?
Alan Smith at Lazio, tho Anderlecht was pretty special. Probably Old Trafford, tho, because it was no fluke.
OMJ: Who was your best ever interviewee?
Stan Collymore post-breakdown was eye-opening but probably Martin O'Neill because he can talk about anything.

OMJ: Can you tell us a story that you couldn't print in The Telegraph or 442?
I joined Phil Masinga, Lucas Radebe and the South African players at their Joburg hotel for an unbelievable party when they qualified for France 98. It all started when I asked Masinga whether he was going to celebrate his clincher goal with a quiet beer...and then the evening became one magnificent blur.
OMJ: Tipple of choice
Caiprinhia. Brazilian giggle-juice also used for jump-starting cars in Rio favelas.

OMJ: Beatles or Bowie?
Stupid question. Beatles.
OMJ: Porridge or Dad's Army?
Dad's Army.
OMJ: The Jam, The Clash or The Specials?
The Clash. Saw them at the Rock Against Racism Anti-Nazi League gig in 1979 and my ears are still ringing. Jam brilliant until That's Entertainment. Saw The Specials but not in the league of the other two.
OMJ: Biscuit of choice?
The nearest. usually milk hob-nob.
OMJ: Last album listened to?
Nighthawks Live at the Psychedelly
OMJ: Can you recommend a good pub?
For food, the Olive Branch at Clipsham off the A1 near Grantham. For beer and atmospere, the Tobie Norris in Stamford, Lincs.
OMJ: Is the opening between two houses a snicket or a ginnel?
ginnel??

OMJ: And finally, and most importantly, lamb – best served hot or cold?
pasanda. so hot.
Last edited by Harvest (Fri 05 Feb 2010 1:07 pm)
Call me up in dreamland. Radio to me man.