Topic: Salford City Away
FT: 2-1 Att: 2632
'Plastic prima donnas'. That was the verdict of the bloke behind us regarding our hosts. As well as his disdain for clubs with rich benefactors, we also learnt of his 52 years watching Town. My god he must have suffered over the years.
A new ground for both of us. Going was a last minute thing in some ways. Work finished earlier than expected for me and, when I texted home, the Mrs reckoned Hannah was keen to go. I'd worried about it being late etc, but she's off school so why not.
They've completely rebuilt the ground since the cameras first turned up for the fly-on-the-wall documentary. It has the look of a Subbuteo stand. Or maybe one made of Lego. All new paint and metal terraces. Very swish. But the portaloos and burger van behind the away end tell you you're still in the non-leagues. They've obviously got ambition. And cash. Their signings this season show that. Rooney, their recent acquisition from Aberdeen, ended up being their match winner. Town couldn't dream of paying for a player like that. I think they picked up four players from League One on free transfers, but they'll have come with League One wages. Keep saying it, narrow margins for some. Not for Salford.
Town had a big following. Fairly short journey and an unbeaten start meant the away standing and seats were pretty much full. That means about 1000 away fans. Not sure where the other 1600 were to be honest. Gary Neville was there. He handed over the matchball to the ref with a disabled Town fan called Adam Heslop. Neville has got to know him through Twitter and they meet up whenever the teams play. Nice touch.
There was a real sense of expectation before the game. 20 places between them meant there could only be one result....mmmm.
Town had signed Simon Lenighan from Guiseley and he made the starting 11. Really not sure why after his performance. Just didn't seem ready. Poor touches and misplaced passes. Probably not a fair judgement so early, but a lot were questioning why he'd been bought. Need to give him time. I knew I remembered the name (it wasn't from his stint as a junior with Leeds or his time at Harrogate Town. Google will reveal all).
Anyway, as I say, I was surprised he started and stayed on as long as he did. Someone suggested Fullarton had picked him to stop them playing. Another terrace wag reckoned he'd stopped Town playing.
They were frustrating tonight. Sat too deep, lacked shape and, for nearly 90 minutes, gave the ball away so cheaply. I did wonder why Cameron King didn't start. Maher had a poor game and the midfield lacked some bite as a result. Salford are clearly better than the 21st place they started the game in but Town should have got something.
They took the lead and it seemed like Town were always on the back foot after that.
Town's equaliser from Kosylo roused the away contingent and the noise was impressive (caught Hannah singing again bless her). The young ones were up out of the terrace and on the perimeter barriers but the stewards were great. Big lumps but they just let them have a bit of a jump around before getting them back in. So many these days would have gone OTT.
Fullarton took Kosylo off after 78 minutes. Again, not sure why. He's a player that can change a game. Bringing Preston on gave the impression he'd settled for the draw. The fans were still in good voice but the joy was relatively short-lived. Their second goal looked like a soft one but the seats were so near pitch level it was hard to tell. Town then had to chase the game. They had chances. Some reckoned they were worth a point but I'm not sure. Edwards had one of the frustrate games. He'll probably score a couple next match. Southwell played quite deep which seemed to limit his chances. Just not quite happening for them tonight.
She was fast asleep before we were back over the border but still happy when we got in.
Dagenham and Redbridge at home on Saturday. Should be back to winning ways. And they're still fourth. We're off to France on Sunday. The fixtures have been kind. Only missing Gateshead at home....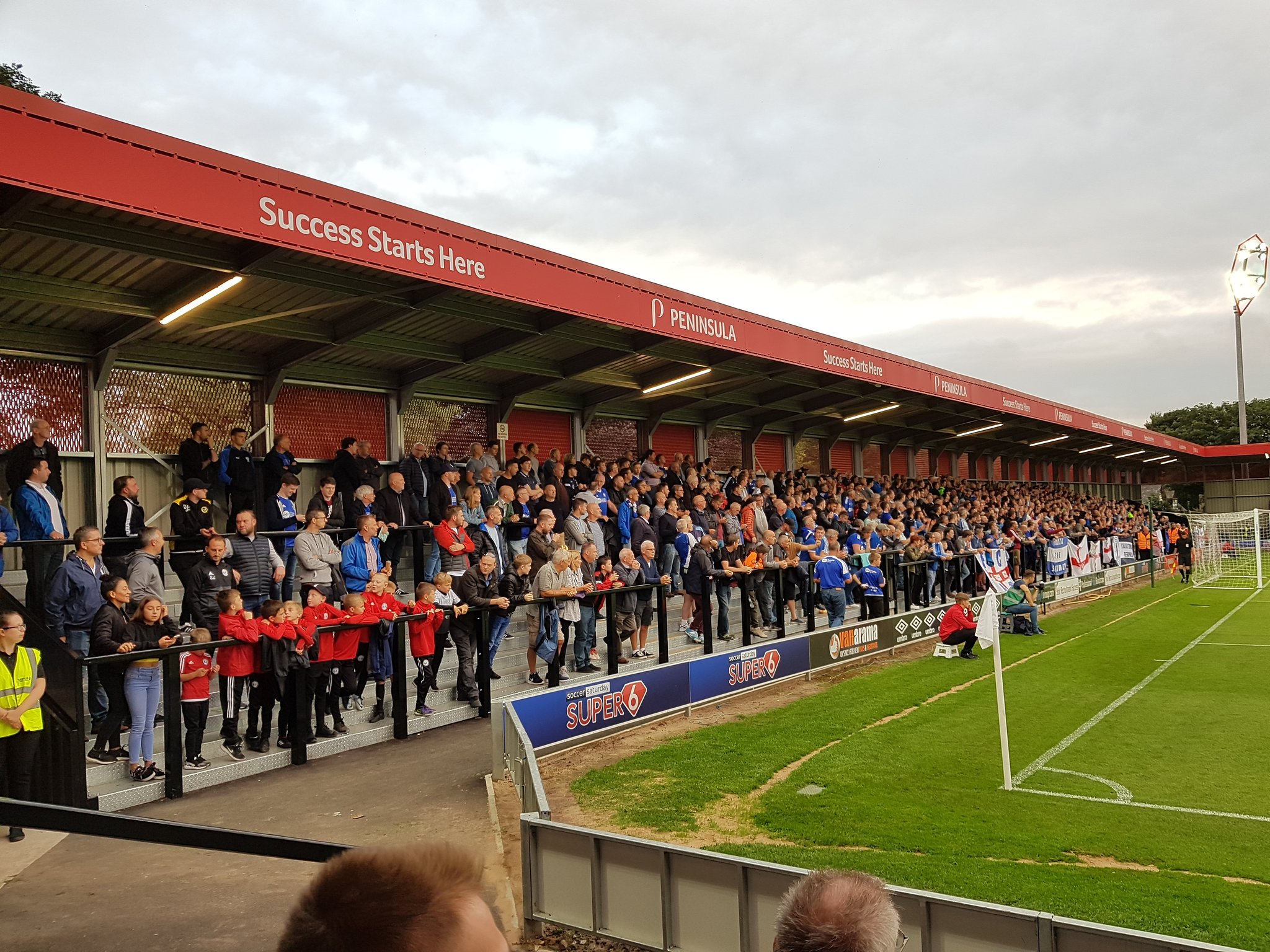 It was pretty much full by kickoff....
Last edited by Travis Bickle (Wed 15 Aug 2018 6:33 am)
She's the main man in the office in the city and she treats me like I'm just another lackey, but I can put a tennis racket up against my face and pretend that I am Kendo Nagasaki...