Topic: Hartlepool at home....
FT: 1-2 Att: 2360 (959 away fans)
The average age at which men need glasses is 43 apparently. All to do with the muscles around the lens.
As you get older, they don't work as well. Like a camera lens that won't twist to focus, the lens can't do its job and the next thing you know you're holding that paperback further and further away or doing that back and forth thing with labels in shops.
I'd made it to 49 before a trip to Specsavers confirmed what I'd suspected for a few weeks now. I need glasses.
And that meant, when choosing them, I needed people I could trust who would tell me straight what ones to choose to avoid me coming away looking like Joe 90.
So it was that the four of us found ourselves in the car in the centre of Halifax at lunchtime. And that I found myself trying to carry on discussing the merits of The Next Step with Hannah (Canadian kid's show about a dance groups) whilst watching Hartlepool's 'mob' running up and down New Lane with Town's 'youth' in my rear-view mirror.
The two teenagers we'd seen in the obligatory match-day uniform (CP Company, Adidas reissues etc) frantically shouting into their mobiles as we set off a minute or so before suddenly made sense. The other half had spotted them and said 'something's going off'.
Thankfully, the kids remained none the wiser as we set off home.
Hannah and I returned an hour or so later with a real sense of anticipation. What should be the biggest crowd of the year so far (it was) and a chance to get back to winning ways and continue the great run of form at home.
She wanted to be in early. Suited me as I wasn't convinced we'd seen the last of the 'incidents' outside. Now there's getting in early….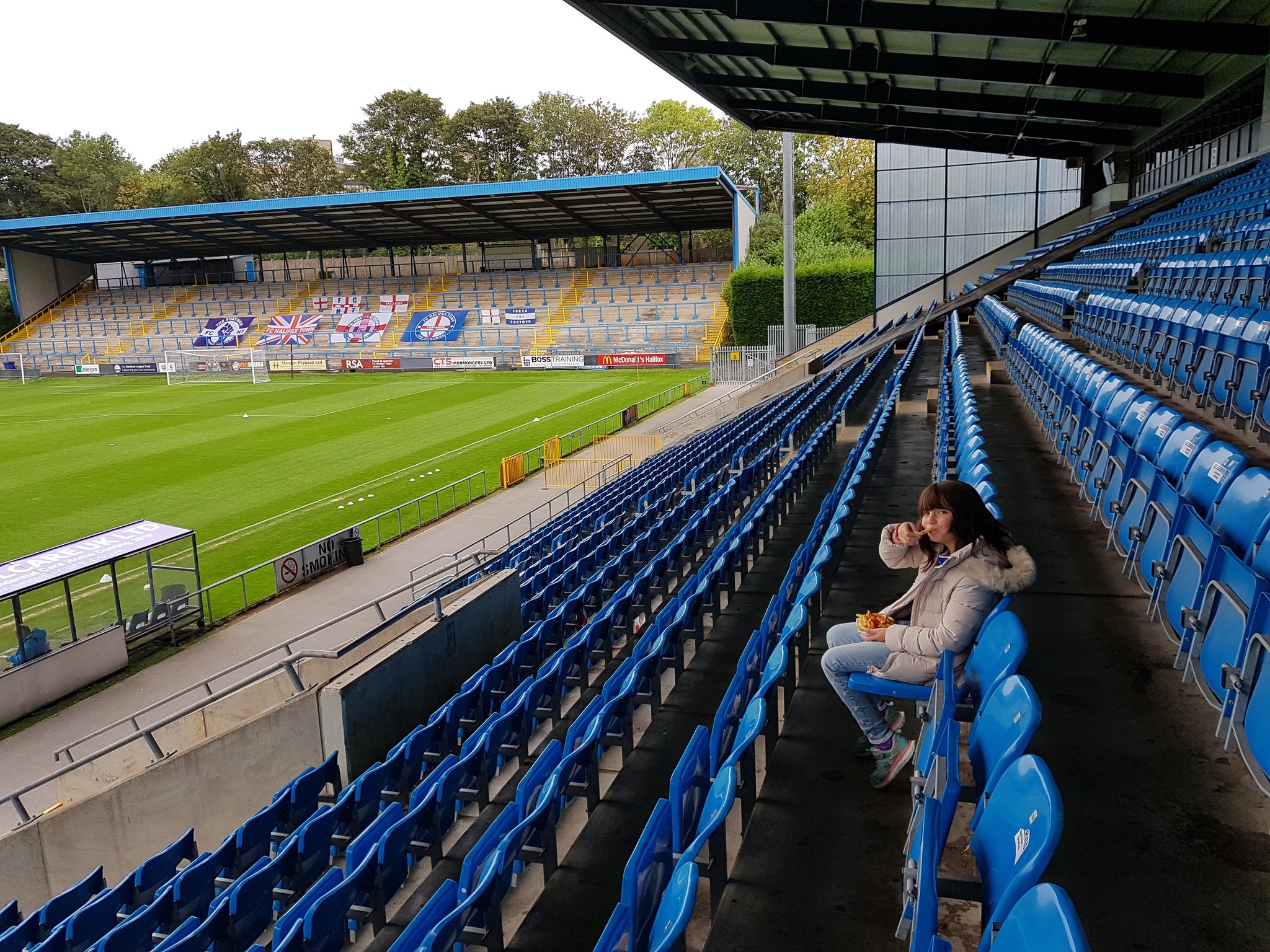 She got an autograph from Ben Tomlinson and had a little chat with him when we got in. He's out for ten months. Ten f***ing months. That's a massive loss for Town. His work rate is incredible and he causes the opposition problems. Add to that the fact that Josh McDonald won't return this side of Christmas and you know we still haven't seen fully what Town's best 11 are capable of.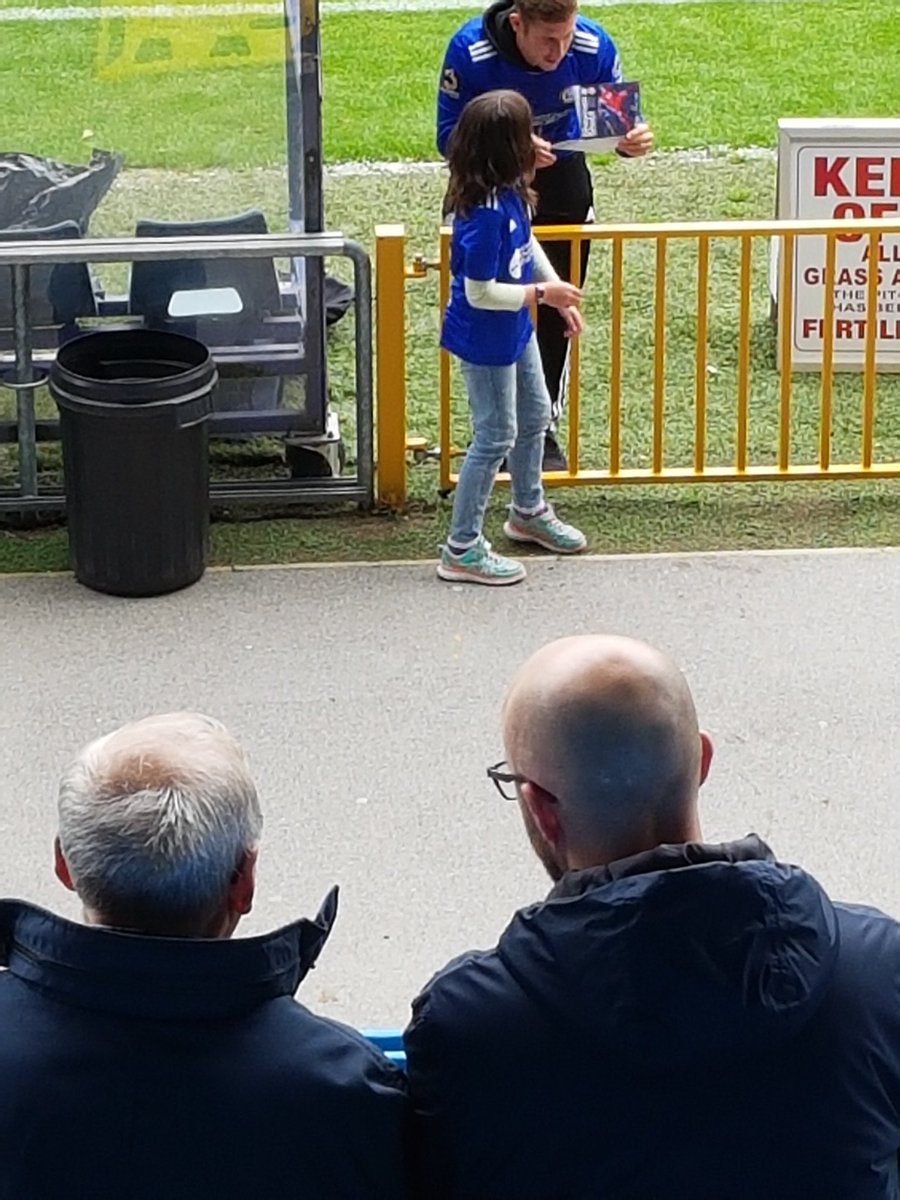 Hartlepool were loud and there was a lot of them. Blue smoke flares and it was positively 'San Shayro' in the Skircoat. All seemed fairly good-natured, if a bit too 'bantz' for me.
They started well, including hitting the bar from a free kick after just a few minutes, and were the better team after half an hour. Town are slow starters and played their way into the game as the half ended.
Lenighan is doing his best to win over the 'moral majority' that object to his very presence at the club. I suspect he still gets more stick than he would if it weren't for his rather chequered past. Berrett must have been a choirboy or have helped out at a children's home as, despite appearing to offer little if anything to the team, he remains completely unscathed from terrace ire.
I've written before about Hannah's view of referees. The utterly incompetent fool inflicted on us today didn't do much to change her view.
He booked Lenighan early on which was just a taste of what was to come. I say that but nobody could have foreseen the utter f***ing shambles he'd play no small part in causing.
Matty Brown, Town's captain was booked later for dissent. Of itself it wasn't the worst refereeing decision, but it seemed that Hartlepool's players could do and say as they please and not attract the attention of the man in the middle.
And they dived. Boy, did they f***ing dive. Noble, not a bad player, could have got points for technical difficulty for one. Another was how I imagine people fall when they're wired up to the mains. His antics and those of his teammates no doubt added to Brown's anger.
The contrast in the ref's approach was pretty stark. Town had a proper shout for a penalty turned down. By now, nobody was in the least bit surprised. I know we all view sport through the eyes of the team we want to win, but I can still remain reasonably impartial (alright, maybe that's not strictly true, but they're not my team and losses don't ruin my week) and I can say that this guy was a joke.
As the game went on Sellers was nearly cut in half on a couple of occasions. He didn't even win a free-kick.
As the half ended, the ref had an escort off the pitch with the hapless Sellers in front of him showing him the marks on his legs. But Town had improved.
Talking of improvement, a very special mention for Jacob Hanson. Orient had targeted him in the last home game. Hartlepool must have feared him at times today. Clarke continues to be a calming mentor to him and it's paying off. He was composed and made some great runs along the wing. Jordan Preston is another who is getting better with every game. I said that Edwards would delight and frustrate in equal measure. Let's just say we must be in line for a cracking end of campaign as it seems he's getting the frustrating games out of the way early.
Wasn't up the job today and squandered some real chances.
But as I say, Town were on the up.
And then it fell apart.
Johnson pulled off an incredible save from a short-range header. He does that. One of his better games today. He made some great saves and had some command of the box.
So all good. A good save and the ball's out for a corner.
Or maybe not. There was confusion. A lot of it. It ended with the ref approaching the linesman.
And a penalty being awarded.
And Kosylo trying to fight anyone in a red shirt.
And being booked for dissent.
And Matty Brown being sent off with a second yellow.
The increasingly annoying Noble stepped up and buried it.
Cue the most annoyingly over the top and just plain long celebration I think I've ever seen. The ref was too busy trying to book Town players to notice. It didn't help the atmosphere in the ground (we now have a leader in the 'f-words heard at the game' table) or the mood on the pitch.
Kosylo has skill in spades. And a short man's temper.
It didn't take long.
It was almost inevitable I guess.
In a 'you asked for this' flash of petulance, Kosylo sent Noble into a summersault with a very, very late challenge and off he went. Clearly not fully purged of his anger, he gave the fourth official and Hartlepool's bench a gob-full before kicking the railings by the pitch and disappearing up the tunnel. No doubt continuing straight out of the Director's entrance, up Union Street and into Town to offer out the first tall bloke he saw.
Everyone was angry but his dismissal meant that the game was effectively over for 9-man Town. Having skill is one thing and he is a game-changer, but you need to be on the pitch for it to count.
They scored a second. They were always going to.
And the ref continued to be completely useless and downright myopic.
Edwards was clattered by the now completely-recovered Mioso. It was he who was fouled for the penalty apparently and spent an eternity on the floor just to make sure we all knew it. No card for Mioso.
Town stuck at it. Odelusi came on with 20 minutes or so to go and put a decent shift in. Maher had replaced Southwell after Brown's dismissal (not sure about that one, with a tiring and ineffective Edwards staying on the pitch).
Town won a yellow card. You know the rest. The majority of the home support rising to their feet for some ironic cheering. But there was an anger in there too. People can cope with losing for the most part. Officials this bad are hard to take.
But hey, things just kept getting better. The crowd had woken up.
And Town scored.
Hanson was fed a great ball by Preston and calmly fired home. No more than he deserved. It lifted the spirits for a while but the reality of missing two players is that you just can't compete and nobody was really thinking of a miracle equaliser.
Good job. It never came.
The game was over.
The ref had another escort. Fullarton waited patiently and then warmly shook his hand. All the while delivering a calm but lengthy barrage of expletives and vitriol. Nicely done gaffer. He'll probably get a bollocking in the ref's report. That's if he can work out which end of the crayon to use.
Hannah wanted to go to the Piece Hall afterwards. I didn't mind as it avoided us having to drive back towards the ground straight away to get home.
The atmosphere was pretty ugly and the police were out in force. Four vans, a council CCTV unit and actual lines of coppers were more than we've seen in our time watching Town.
Not sure if anything did happen but a group of at least 50 Town 'youth' were roaming as I ushered Hannah into the calm of Halifax's top tourist attraction. I know we all saw a lot (or were involved in it) growing up, but I don't want her to.
I've no doubt the forums will shed some light on the incidents and I suspect some of the what seemed to be dodgy calls by the ref actually weren't. But I'll take some convincing before I accept that Town weren't robbed of a chance today. No ref really loses you a game. But they can sure stop you winning.
Fylde at home on Tuesday night. God, do we need a win……
Last edited by Travis Bickle (Sat 22 Sep 2018 10:46 pm)
She's the main man in the office in the city and she treats me like I'm just another lackey, but I can put a tennis racket up against my face and pretend that I am Kendo Nagasaki...