Topic: AFC Wimbledon at home....
FT: 1-3 Att: 2044 (314 away)
If Wimbledon had faced Southampton today, even their most dedicated fan wouldn't have gone to the game with much in the way of optimism. The Saints may be second bottom of the Premier League, but a gap of two divisions can't be ignored. There are reasons for those gaps. Fitness, size, skill. The money the players are paid and that the team pay for them.
So, given the fact that the relative positions between them and Town are the same, we shouldn't have been disappointed with the result in the car on the way home.
But we were.
Neither team brought much in the way of form to today. Wimbledon are hoping to change their fortunes and climb from the relegation places with the appointment of Wally Downes (there had been talk he'd be in place for today).
A similar run to Town's current one saw Billy Heath lose his job last year.
But such is the faith of the football fan that the Town crowd were looking beyond last week's four-nil drubbing at Ebbsfleet and pinning their hopes on 90 minutes-worth of the first half form against Morecambe that brought them to the second-round proper.
For a while, it seemed that the faith would be repaid. There was a sense of déjà vu from the last time the 'magic' of the Cup came to the Shay. Town were actually playing some football. Good football. And looking like the team further up the football ladder. Chance after chance fell to them. Near miss after near miss resulted.
When Kosylo broke through the middle and hit the post with only the keeper to beat, someone near us helpfully chimed in with 'we'll regret these misses'. Thanks John Motson, we already knew that. And, yep, Town did regret them.
The crowd were staying positive. The South Stand were making a good racket. Even some of the old farts in the East Stand managed to clap along with a chorus of 'Blue and White Army'.
The club had really worked hard through the week to get more people in. Under-12s were free. School groups and local kids' teams could get in for nothing as could up to two adults with them. Facebook updates, Tweets. They gave it a real go.
Some of the nationals had run stories about today's game and both Calendar and Look North must have dug out the dog-eared office copy of the Calderdale OS map and remembered there's still a football team in Halifax.
Town even had a 'media day' this week. What next? A club shop that actually opens? We can but dream.
I'm being unfair about the shop, that's down to the council who still own The Shay.
All of the effort made the final gate disappointing. It's not Barcelona. But it's live football. In a decent stadium. And it was free for kids. You can't force people but I did wonder how many kids were trudging round the White Rose or Trafford Centre today that could have been experiencing all that's brilliant about live sport. Any live sport.
Hannah's proof that once you give some kids a taste you can hook them in and keep them coming back. Let's be right about it, there are still times you can tell she's hardly riveted by the 'action' on offer. She's not alone. They don't make it easy at The Shay, even for the seasoned die hards. But then you remember there are people in the stands to watch. Nicknames to be handed out. There's food to eat. Food that's really bad for you that you which, of course, makes it taste better. There's fresh air to breathe (although some of the crowd make that last one difficult at times). There's so much more to it than just the 90 minutes of the game.
At one point today when the game had gone from Town I could see her attention drifting. Big deal. What football fan doesn't have that? She was soon back with the team when Town won a corner and the crowd lifted.
Whatever the quality on offer, I know I'm spoilt. I get to watch football, but, more importantly, I get the laughs we have at every game. She had me in stitches a few times today. I get a day that's a million miles from work. I get something I genuinely look forward to.
I'd made the mistake of talking to Hannah about the third-round draw through the week. About the arrival of the Premier League and Championship sides. The possibility of a visit from the BBC for a live match. Maybe even making Football Focus. I know, it all seems a bit cruel now.
I say that but she's probably more of a true non-league fan than we realise. I reckon her expectations were far more realistic than mine.
Even as the hope of an upset the cup can bring ebbed away, she was still happy.
She had sweets, a blanket for if it was cold, money for chips and her FCHT hat. She had the now obligatory headphones for Spotify on my phone for before kick-off, 'they play rubbish songs Dad, the same rubbish songs every week'. Starship's 'We Built This City' says she has a point. I hope it is that and not just the fact she's fed up of talking to the old man already. Like I say, there's a lot more than just the football.
But the football wasn't all bad today.
On paper this was Town's best first eleven. King was excellent as always, but one player can't run a midfield and the reality is that both Staunton and Maher are centre-halves. All players can adapt to an extent, some better than others, but you can't ask defenders to run the team and dictate play when in possession. Fullarton has been asking them to do that for a while. There are alternatives. But we'll come back to that.
Suffice to say that, as the game progressed, Town's limitations in the middle of the pitch became more apparent.
Still, they should have been one up at halftime. Town nearly went ahead through an own goal after a couple of minutes but the header went straight into the arms of their keeper. It would turn out to be the story of the day. A succession of corners and free-kicks had people believing all that 'the Cup's a great leveller's stuff was back.
Staunton fired over the bar when it looked like burying it would have been easier. Like I say, the story of the day.
And then the visitors scored. Brown missed a header at the edge of the penalty area, Town couldn't clear it and the ball was fired into their net. I think it took a deflection that slightly wrong-footed Johnson.
The story of the day.
Town were back up the other end sharpish though. They won a corner. Shortly after, Southwell was pulled down on their line. A penalty surely? That's how it looked from where we were. And it's how it looked to just about every Town fan in there. My mate, a York City fan, reckoned it was a penalty. What more evidence could you need? A York fan no less.
Scoring with probably the last kick of the first 45 would be the lift they needed.
Sadly, the ref and linesman weren't having any of it.
The half ended with a booking for Southwell for dissent. Speaking of bookings, Wimbledon had led a charmed life with the ref. I'd love to see the stats for free kicks. It seemed that they were late in almost every challenge.
With every minute that passed in the second half the gap between the teams became more apparent. They were brushing Town players off in challenges. They were first to every loose ball. They were retaining possession and making Town chase the game.
It was inevitable that the goals would come.
At 0-3 it was over. To be honest, it was over before that but nobody wanted to give up too soon.
King got a booking for a lazy and late challenge. He also got an injury that saw him still limping at fulltime. Not a good sign for the rest of the year.
King's departure in the 63rd minute saw Mekhi McLeod come on. The crowd were willing him to do well. He's warmed the bench all year. He got a run out at Goole Town in the West Riding Cup. But that's been about it. It took a while for Fullarton to start with King. With him now injured history may repeat itself and we might finally get a proper chance to see what McLeod can do. The signs today were positive. He tried to do something every time he had the ball. Taking people on, hoping to sell a dummy, trying to find space, looking to link up. Town desperately need a spark in midfield. Fullarton has an option. He needs to try it. McLeod may not be a world-beater but there isn't much else on offer. He's not got a lot to lose to be honest. McLeod looks hungry.
Hannah picked up on his efforts. 'He needs to play next time' was her verdict. I think she's right.
Town did get the ball in the net. Not sure if it was a Maher goal or an own goal. Not much consolation but for a few seconds you could see people wondering whether Town could get two more in five.
They couldn't.
Jacob Hanson won the home team Man of the Match award. He's a class act that kid. Sadly, with their current troubles, I can see Bradford taking him back when his loan deal ends in January. If Town did make over £100k from their cup exploits, they could a lot worse than trying to secure Hanson for the future. With hopefully some brass left for a proper target man up front. Southwell could barely walk when he came off. He puts a shift in running the line but he's chasing shadows half the time.
I haven't looked on the forums. I don't know if the calls for Fullarton's head are back. They shouldn't be. Yes, the run of form has been poor. Some of the decisions and tactics can be annoying and frustrating in equal measure, but I can't see that a change is needed just yet. There's still some football in this squad.
Hannah and I had a laugh on the way back to the car.
We followed a Wimbledon-supporting family through the carpark that could have come straight out of a Mike Leigh play and saw Town's 'Youth' squeezing through a ginnel to give the coppers the slip. 'They're looking for a punch-up'. I think she was right. Not sure they really wanted to find one to be honest.
She'd have been alright today. Shaymen Aggro anyone….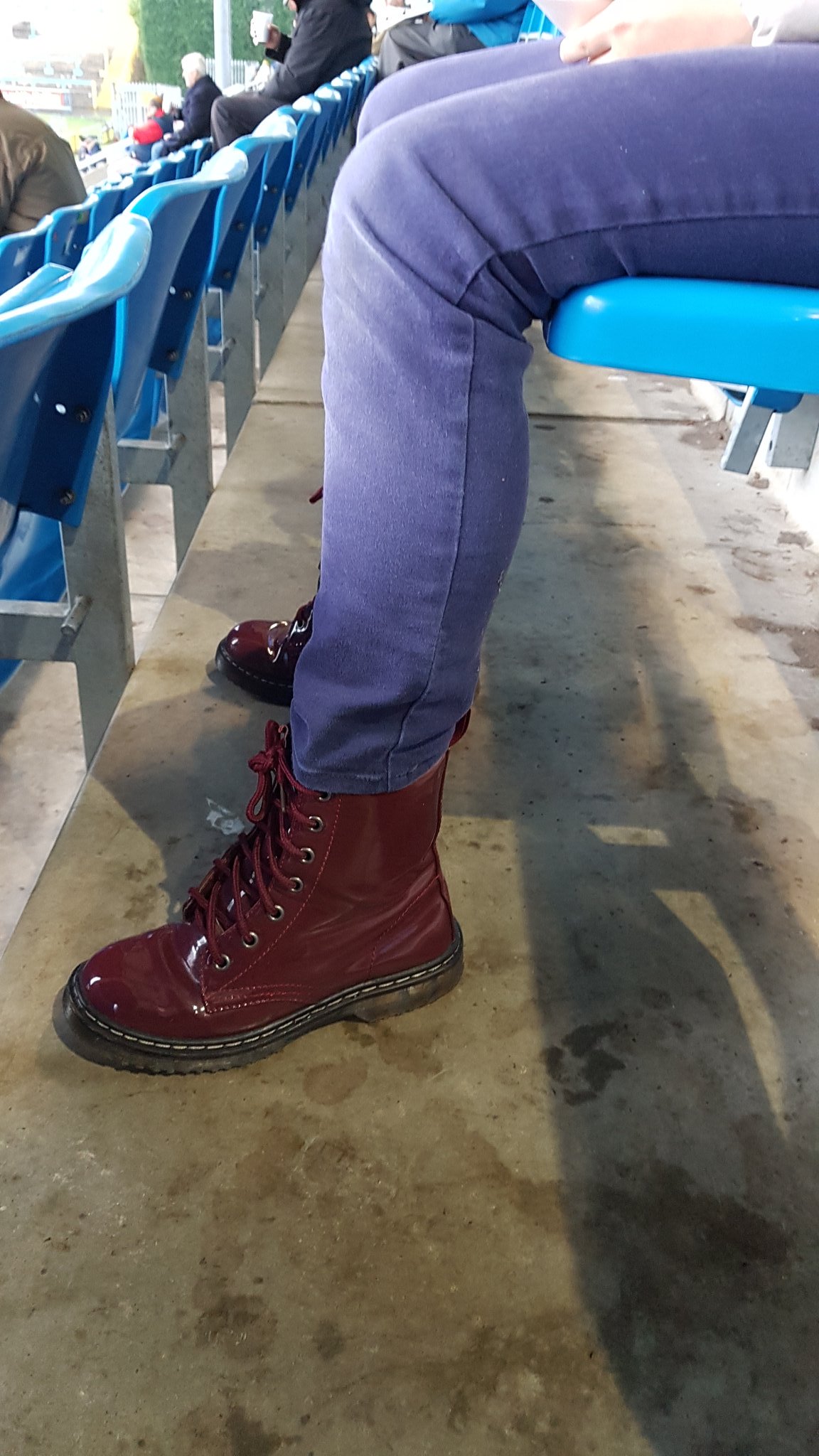 In a perfectly-timed throwback moment, Sham 69's 'Hersham Boys' was playing when I took that. I said she had a point about the music.
Hannah and I don't have a game until the 22nd now. Sutton United at home. Dagenham and Redbridge are next up, away on Saturday. I really hope that Town remember how that first half felt today. There might be two divisions between Town and AFC Wimbledon but there's only one place between them and Dagenham.
Whatever happens, when we're back at The Shay there'll be chips, sweets, people-watching and Spotify.
And, best of all, there'll be me and Hannah.
Last edited by Travis Bickle (Sat 01 Dec 2018 11:55 pm)
She's the main man in the office in the city and she treats me like I'm just another lackey, but I can put a tennis racket up against my face and pretend that I am Kendo Nagasaki...