Topic: Boredom Wood at home....
FT: 1-1 Att: 913 (10 away)
They don't give primary school kids a flu 'jab' anymore. It's a nasal spray. The common side-effects are headaches, tiredness and a loss of appetite. As Meat Loaf once sang, two out of three ain't bad. In the case of a 9-year old football fan, it ain't good. The sweets, chips and hot chocolate showed the appetite was still there. The headaches and tiredness were more of a problem sadly.
They're still playing as I type this.
And Hannah is fast asleep.
I've got to be honest, I was a bit surprised when I got in from work and saw her Town hat and scarf out. She had the jab last week and hasn't been 100% since. Add in the end of the Christmas term and rehearsals for various concerts, with drum patterns and songs to learn, and it's no surprise she's knackered.
But she seemed okay and off we went. A chance to see the new loan signing from Stevenage, James Ferry.
Even allowing for us getting there fairly early, you'd have been forgiven for thinking we'd turned up on the wrong day. Barely a soul there. Even the mascot seemed like he'd rather be elsewhere. Anywhere. It was if the club wanted to finish for Xmas. Get the game out of the way, pop on a novelty jumper, drink too much and have a fumble with that fat lass on reception.
I don't know who was doing the pre-match music but there were massive gaps between records. Periods of silence. Literally. No chants. No drum (no great loss). Nothing. We left before the crowd was announced but it had to be down there with the smallest of the season. Boreham Wood's travelling army didn't help....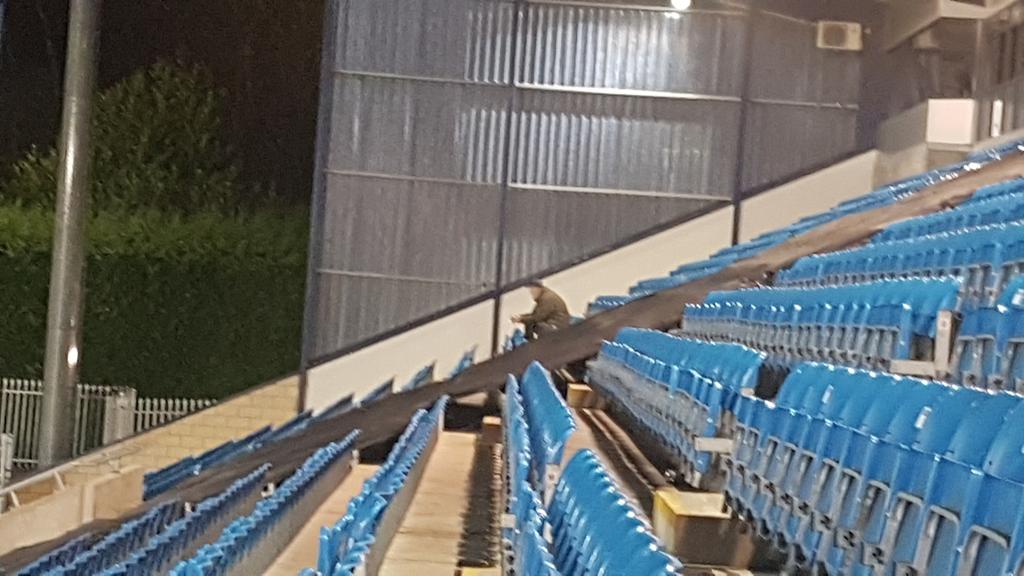 To be fair, I think 6 or 7 of his mates turned up eventually. It was as if the crowd were there out of duty. The hardy faithful who were there because they felt they had to be. No expectation. No excitement. Just there.
I'm conscious I'm not selling the spectacle but we were having a laugh as usual. Cameron King's out injured. We had a little chat with him as he walked to his seat in the stand. Out for a couple more weeks he reckoned. He can't come back soon enough.
I could tell she wasn't right fairly early on in the game. And neither were Town. Truth be told they were shocking. It was pure Sunday league stuff at times. Boreham Wood scored after 3 minutes. The softest of soft goals.
The lack of atmosphere did mean we got to hear their managers touchline ranting. Hannah counted two s***s and an f-word in one of them. Even the novelty of proper Cockney swearing couldn't raise her spirits though.
Ferry looks to have some promise but Town were gifting possession and had no final ball. It wasn't all bad. Odelusi had the best half I've seen and Preston was busy. Hanson stood out again, although their number 3, Femi Ilesanmi, caused him a few problems.
Town plugged away and got their reward. Southwell had a great chance fairly early on and didn't convert. He made sure shortly before halftime. They went in at 1-1. Hardly a classic but we'd feared the worse so would take that.
Others would have to enjoy the second half without us. I could tell Hannah didn't want to leave, if only for me. But I knew she was tired and suffering. As we walked back to the car I could she felt bad, as if she was letting her team down. I told her not to worry.
It ended 1-1. Only 913 turned up to watch it. 10 made the trip North apparently. Gates like that won't help the balance sheet at the end of the season. The commercial team work their socks off on a tight budget but it's got to be hard to attract more people when the product isn't up to much.
Whatever the spectacle, or lack of it, we'll be back on Saturday. School will have finished by then. She'll hopefully feel a lot better. Not sure Town will have improved as much though.....
Last edited by Travis Bickle (Tue 18 Dec 2018 10:56 pm)
She's the main man in the office in the city and she treats me like I'm just another lackey, but I can put a tennis racket up against my face and pretend that I am Kendo Nagasaki...