Topic: Morecambe Away....
FT: 0-0 Att: 1736 (531 away)
Given their recent form, 531 away in the FA Cup at Morecambe ain't bad I reckon. How many of them spent tonight in a Lancashire Constabulary cell is anyone's guess, but more of that later.
Expectations shouldn't have been high today. But for some reason they were. Not just for the two of us, but it seemed for a lot of the faithful who made the trip. Any journey that includes the M62 and M6 has the potential to be a nightmare, but we made good time and were soon parking up and debating whether to seek out a chippy or go straight in. We opted for the latter and, after one bite each of the utterly rank hot dogs on offer, regretted our decision. And discarded the offending item in the bin.
Morecambe was another new ground for me and another addition to 'I never thought I'd watch football here' list. It's a new stadium built around 2009. It has the obligatory identi-kit main stand, complete with pictures of the manager and 'Joseph Barnes Christie' (who I think founded the club in the 20s) emblazoned across parts of it. 'JB's' Bar anyone? All very artificial if you ask me. Lego do football ground. There are two small covered terraces behind the goals and a tiny open terrace that runs along the far side of the pitch.
The pre-match entertainment included the 'Shrimp-etes' cheerleaders. Hannah watched with a look of barely-concealed disgust before turning to me and saying 'one word Dad, Fylde'. She's a canny one. And developing an eye for the absurdity of modern sport very quickly. There's an element of the manufactured about them and she seemed to get that even if she couldn't fully articulate why. The 'ultra-style' banners and matchball on a plinth at kick-off are a dead giveaway for those of us of a certain age.
Prior to the game getting underway, the last post and minute's silence were pitched just right. Not overly sentimental, just appropriate and impeccably observed by all.
When the game got going, Town weren't bad. The benchmark may not have been particularly high, but there were definite signs of improvement. Kosylo's suspension meant a change in formation, with Southwell ploughing a lonely furrow as the lone striker up front. King was always busy and left all of us wondering why it's taken so long for him to cement a first-team place having spent a couple of months as an unused sub. Brown and Clarke were solid as a centre-half partnership. Clarke took a bad knock to the head relatively early on and was sent from the pitch at least three times before a comedy bandage managed to stop the bleeding.
For all of Town's efforts they were poor in the final third. I genuinely don't recall a shot, never mind one on target, in the first half. I've talked about how frustrating watching Town can be and today was one of those days. Odelusi was better but not sufficiently improved to stop a fairly sizeable contingent of the Town fans shouting 'off, off, off' after his late challenge on a Morecambe player.
At halftime we were still optimistic. I left Hannah listening to Spotify on my phone and went to get a coffee.
As is the case at many sporting grounds these days, a gate had been opened to allow the smokers in the crowd a chance to stand in a pen in the 'open air' and have a quick cig or six before the action resumes. The added bonus for them and all of us queuing for sustenance today was a ring-side seat for a full-on scrap on the road outside the ground. I'd seen Town's 'risk' making their way off the terrace behind the goal before leaving my seat and had assumed they were simply topping up on Carlsberg and meat pies. Seems they had a far more ulterior motive. The stewards running for all they were worth to the exits was another clue
There were probably 50 or so of Town's lot, a lot of coppers and some blokes on the other side. The access road to the ground has a pub on it (think a Beefeater-esque job that looks like the show house for a suburban new-build estate). Actual punches were thrown and at least one copper ended up on his a***. I was thirsty so left them to it and went got my drink.
Thankfully Hannah would be blissfully aware of any of the unpleasantness at the time although she did comment on the gaps on the away terrace when the game recommenced.
Town had some of their best possession after the break and, for a period around the hour mark, looked like they could genuinely win. Maher should have fed Southwell early but delayed and the ball was a second late and a yard behind. He would later shoot straight at the keeper when he probably should have buried it. After that positive period, Town reverted to type for 20 minutes or so and were lucky to keep the home team out.
Town did get the ball in the net in the second minute of added time though. Edwards had come on for Southwell and, confirming my view of him, managed to have both a good and frustrating game in the same match. There is definitely a player in there. Someone needs to put a shift in with him in training and get it out. The build-up was patient if not perfect, the cross superb and the header a bullet. But a video doing the rounds on social media suggests that the offside call was probably the one and only decision that linesman on our wing got right.
When the four minutes of added time were done, the applause and number of people waiting for the players to walk over to them told you all you needed to know about where this performance stands amongst more recent outings. People saw some effort. And the odd bit of football.
I had instructions to get back over the Pennines asap as 'Strictly will be starting soon'. Hannah's viewing was to be frustrated however by Lancashire's finest. A line of police cars, vans and coppers meant we were being 'held back'. Given that the trouble had taken place nearly an hour prior to our departure I was struggling to see why this was necessary. Add to that the fact that most, if not all, of the Town lot involved must have been nicked or had decided to p*** off and the fact that the 'opposition' it seems were Radcliffe Borough fans making a stop off from their cancelled game at Kendal, and I did wonder why we had to spend 10 minutes looking at equally bemused Morecambe fans some 100 yards or so away. It seems they were kept back until the Town fans were allowed to leave.
Hannah kept asking what was happening and moaning that she couldn't see. She quickly heard there'd been bother earlier. It did bring home how much I don't want her to see that aspect of the game. She was fine about it, laughing that she'd given them and me the slip at halftime and had 'sorted' them out. I was happy she could laugh about it but I suspect part of that is because she hasn't really seen that sort of thing. For all that she's getting used to the swearing, the blokes peeing in bushes near the ground and smell of chips and ale, she's been spared seeing real fights. Thank god.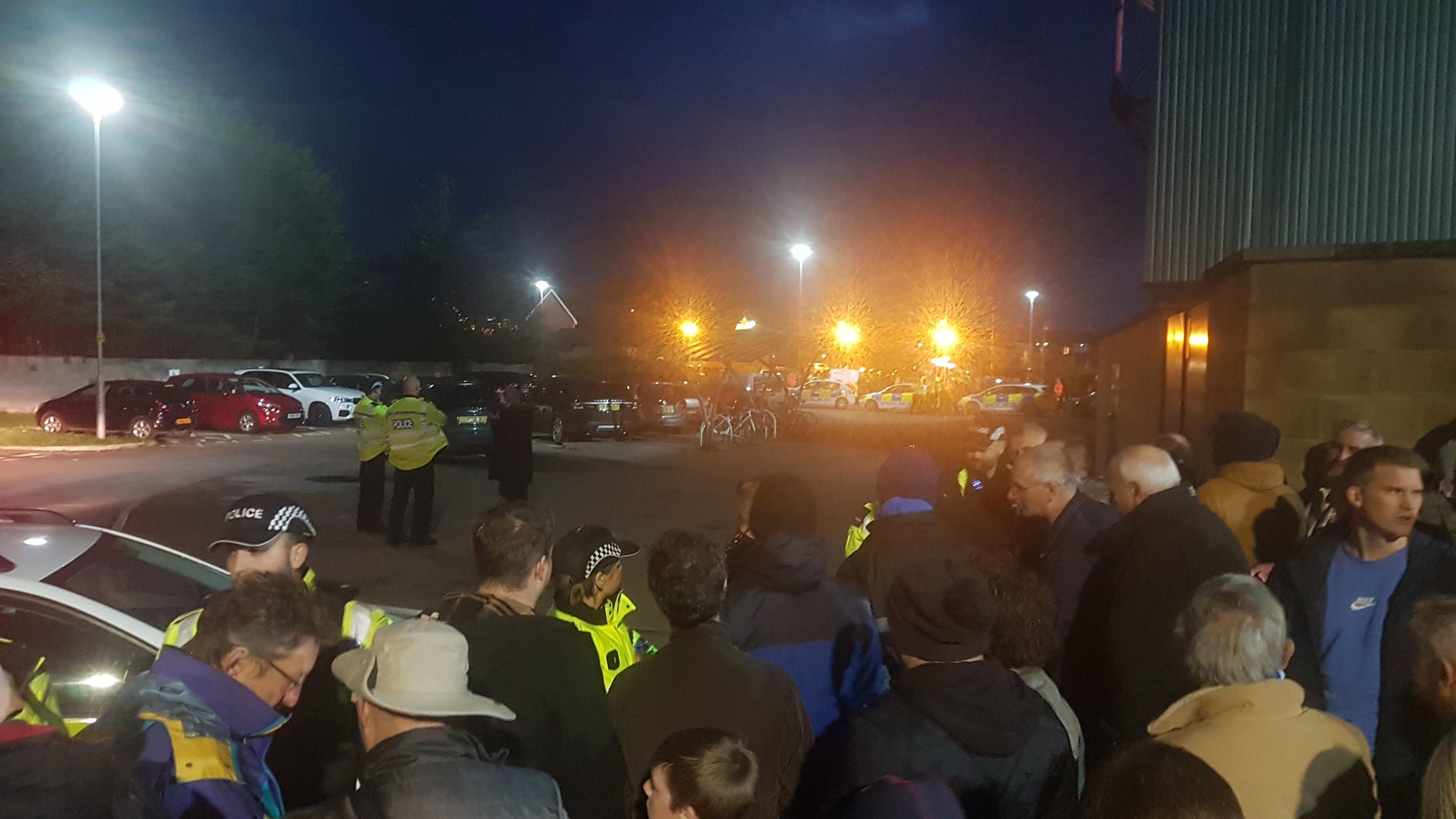 I'd promised her we'd 'see the sea' on our trip to the coast. We did manage a drive along the East, West and Central promenades after the game looking for the chippy we should have visited earlier. We found one, 'Sam's Fish Bar'. Not sure whether Sam was the bloke who looked like he was the subject of the notification requirements that come with a particular type of offending behaviour or the lass with the home-made tatts, but whoever ran the gaff, the chips weren't too bad.
Driving past the guest houses, cafes and pubs, I genuinely wasn't sure much had changed since I was last there on a residential geography A-level field trip in 1987. The flyers at Sam's were for a wrestling 'extravaganza' and a charity Rockabilly night at 'The Strathmore Hotel'. The land that time forgot and all that. You felt a million miles from Westminster. And that someone does need to listen and care about places like that. We know who fills the gap when we don't.....
I'm mentoring a group of sixth-formers in the Citizenship Foundation National Mock-Trial Competition next Saturday which means I'll miss Dover Athletic at home. I know Hannah's dead excited to get to show the Mrs what watching Town is all about, but it's probably a sign of how much this whole adventure still means to me that I'm genuinely disappointed that I won't be there.....
She's the main man in the office in the city and she treats me like I'm just another lackey, but I can put a tennis racket up against my face and pretend that I am Kendo Nagasaki...